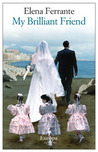 My Brilliant Friend by Elena Ferrante
This kind of book is difficult to find – it moves with great ease and vibration, yet it doesn't give you the nervous feeling of wasting your time with yet another contemporary exploration of the depths of everyday life (that are only the depths of boredom and complacency as it is with Knausgaard, with whom Ferrante is often compared).
Although this novel is written in an autobiographical way as well (it's a story of two girls, growing up in after-war Naples), the author is aware that in order to produce something valuable, it is not enough to live and write about it. She knows how to transmit that life to her book, how to give it its own force. You end up sucked into the whirl of friendship and its tensions. It is as picturesque and noisy as a novel can get without turning the psychological insights and interpersonal dynamics into soap opera. In my opinion, it's a perfect holiday book and you get two new friends out of it.